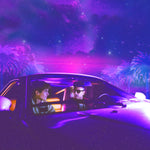 Two pillars of the present-day disco and funk worlds, Purple Disco Machine and French superstar Kungs team up for their newest release 'Substitution'. Kicking off the year with this surprising collaboration, the two internationally acclaimed producers prove they are the perfect party-starting pair with a single earmarked to be a dancefloor favorite. The two artist's relationship flourished when they met at several festivals, with 'Substitution' embodying that pure excitement and energy only found dancing next to boogie-loving punters. Combining their innate abilities to bring people together to party, the two teamed up and worked together in Purple Disco Machine's Dresden studio to iron out the track rather than just sending files back and forth, ensuring an authentic disco hit.

It signals Purple Disco Machine's first single since earning the 2023 Grammy for Best Remix Performance on Lizzo's 'It's About Damn Time' and follows a tremendous few years of success for the electronic virtuoso. The prestigious producer has earned a reputation as a chart-topper with his collaborations with Sophie and the Giants in 'Hypnotized' and 'In The Dark', while also bringing out a catalogue of hits along the journey to the 2021 release of his sophomore album 'Exotica'. Meanwhile, Kungs has earned his crown as the leader of the French electronic revolution with his 2022 album 'Club Azur' proving his aptitude for making people move with airplay-chart hits such as 'Clap Your Hands' and 'Never Going Home'. He embeds that dance floor flavour into 'Substitution', only complementing Purple Disco Machine's own flair for groove-laden beats.
The pair exhibit a perfect musical marriage of Italo-disco influences to ensure dancefloor excellence and a lyricism that will sing away at your heart. In apropos fashion for both men, the single kicks off with enchanting piano chords and a signature funk fuelled bassline. Sampling the iconic 1984 hit 'Big in Japan' from Alphaville, there is a sense of poise and class within the production while the two simultaneously exude a carefree charisma that permeates throughout 'Substitution' The disco heat melds effortlessly with the soulful-pop hooks that will have you getting lost in the lust of the lyrics.
However, while you'll be singing along it'll be evidently clear that the two artist's roots come from the human experience found on the club dancefloor, as is conspicuous throughout the vibrant production.