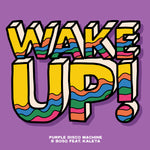 Following on from the tremendous success of his sophomore album 'Exotica' which reached his first album Top Ten position on the German Album Chart, and birthed the hugely successful singles with Sophie and the Giants 'Hypnotized, and 'In The Dark', alongside 'Dopamine feat. Eyelar' and more, today Purple Disco Machine announces a new single 'Wake Up!' alongside Bosq feat. Kaleta. First performed to a live audience at Coachella Valley Music and Arts Festival earlier this year where an additional three thousand people tried to get into the already crowded performance, 'Wake Up'! will be taken on the road to festivals across the UK, and Europe, with Purple Disco Machine due to play Parklife, Lollapalooza, Tomorrowland, and many many more over the coming summer months.
For the new single Purple Disco Machine, aka Tino Pionek, teams up with renowned DJ, producer and multi-instrumentalist Bosq who has been celebrated for his exploration of Disco-Funk and Afro-Latin styles, their individual styles culminating to create an all encompassing fiery piece of modern disco excellence. Instantly kicking into gear, 'Wake Up!' features slick basselines, varied Afro-Latin percussion, energetic horns, and more, to create a heavenly slice of soulful disco house. Further joining the duo is Benin Republic singer/guitarist Kaleta, whose vocals instantly invoke feelings of joy and celebration only elevating the record further again.
The new single follows on from a hugely successful 12 months for Purple Disco Machine, which saw the acclaimed producer release his sophomore album 'Exotica', and the dancefloor dedicated counterpart 'Club Exotica'. The studio album was an opportunity to pay homage to the 80s and the plethora of artists that inspired the Dresden native from his humble beginnings. The 14 track project featured international hits such as 'Fireworks feat. Moss Kena & The Knocks', 'Dopamine feat. Eyelar', 'Hypnotized' with Sophie and the Giants which hit over 350 million streams, #9 Global Shazam, and Platinum and Gold accredited across Europe, and his most recent number 1 single 'In The Dark', again collaborating with Sophie and the Giants. As the #2 Beatport Artist of All Time his influence on the global dance industry, producers and fans is undoubted, having remixed the likes of Dua Lipa, Mark Ronson, Foals, Calvin Harris, Fatboy Slim, Sir Elton John, Royal Blood, Lady Gaga & Ariana Grande, Duke Dumont, and Diplo & SIDEPIECE. Whilst now boasting over 1 billion streams across his catalogue to date, Purple Disco Machine has cemented himself as one of the most prolific disco producers of a generation.
US born, Colombian based artist Bosq has been a prolific producer since the release of his debut album in 2013, now with a total of five studio albums to his name, and countless originals and remixes under his belt across a plethora of renowned labels including Ubiquity, Fania, Defected, and Soul Clap to name just a few. Heavily supported by tastemakers around the globe including Mixmag, BBC Radio 1, KCRW, Rinse FM and more, Bosq has been able to tour across North & South America, Europe, and Asia, to clubs and festivals such as Rakastella (Miami), OYA (Oslo), Boomtown Fair (UK) and many more.
Starting his career performing in church in the late 70s, Nigerian born singer/guitarist Kaleta has gone on to tour and record with the musical elite of the world including Fela Kuti as part of the Egypt 80 Band, King Sunny Ade, Lauryn Hill and more. Throughout the 80s and 90s, Kaleta went on to tour the world alongside Egypt 80, and is now based in New York leading the Afro Funk group Super Yamba Band.
Purple Disco Machine & Bosq Feat. Kaleta - 'Wake Up!', is out now.