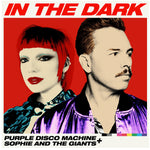 Hypnotizing fans the worldover with the decadent pop stylings of their internationally acclaimed single, Purple Disco Machine and Sophie and the Giants team up once again for the release of 'In The Dark' ahead of the release of the 'Exotica Deluxe' due out on Friday 4th March 2022 - pre-order HERE. With a proven formula for success, Purple Disco Machine's driving funk-fuelled production serves as the perfect accompaniment for Sophie's transcendent melodies, and emotive vocal work, presenting an unmatched energy as a duo. Their previous collaboration 'Hypnotized' surpassed 350 million streams across platforms, achieved multiple Platinum certifications across Europe, whilst hitting #9 on the Global Shazam Charts. Achieving tremendous success in Italy, the single was accredited 5 x platinum, with the duo invited to perform the record at the premier event Power Hits Estate 2020 live from Verona Stadium.
A match made in heaven, the new offering presents both artists thriving in their element once again, combining for what is sure to be another dance-fuelled hit from the charismatic pairing. Purple Disco Machine's aptitude for upbeat Nu-disco production is as prominent as ever however, lyrically the single emanates contrasting emotions lamenting a love gone awry and feelings of despair. Directed by Dimitri Tsvetkov, the music video is set on a cold rainy night in DDR East Berlin, and follows a tale of forbidden love, intertwined with a thrilling saga of espionage and deceit.
'In The Dark' follows on from a hugely successful 12 months for Purple Disco Machine, which saw the acclaimed producer release sophomore album 'Exotica', and the dancefloor dedicated counterpart 'Club Exotica'. The studio album was an opportunity to pay homage to the 80s and the plethora of artists that
inspired the Dresden native from his humble beginnings. The 14 track project featured international hits such as '
Hypnotized' with Sophie and the Giants, 'Fireworks feat. Moss Kena & The Knocks',
and '
Dopamine feat. Eyelar',
leading to over 500 million streams on the album alone.
As the #2 Beatport Artist of All Time his influence on the global dance industry, producers and fans is undoubted, having remixed the likes of  Dua Lipa, Mark Ronson, Foals, Calvin Harris, Fatboy Slim, Sir Elton John, Royal Blood, Lady Gaga & Ariana Grande, Duke Dumont, and Diplo & SIDEPIECE. Whilst now boasting over 1 billion streams across his catalogue to date, Purple Disco Machine has cemented himself as one of the most prolific disco producers of a generation.
Purple Disco Machine and Sophie and the Giant's new single 'In The Dark' is out now, with the 'Exotica Deluxe' album out on Friday 4th March 2022 - pre-order HERE.