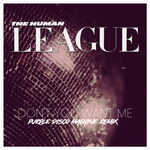 PURPLE DISCO MACHINE REMIXES THE HUMAN LEAGUE'S CLASSIC 'DON'T YOU WANT ME' - available on all platforms now!
Global dance music icon Purple Disco Machine has remixed the legendary Human League single 'Don't You Want Me', out 19th November on Positiva.

Marking the 40th anniversary of the track's initial release, the Purple Disco Machine remix of 'Don't You Want Me' sees the German talent inject an additional dose of infectious dancefloor energy while staying true to the original. Released back in 1981, it was the biggest-selling single of the year, a christmas #1 and the fifth biggest-selling single of the decade, becoming a US #1 in 1982. It follows PDM's hit single 'Dopamine', a track that has racked up over 9 million Spotify streams and featured on his acclaimed new album Exotica.

"I can't say how happy I am with the Purple Disco Machine remix of 'Don't You Want Me', because my favourite pop music ever is Disco," explains The Human League frontman Phil Oakey. "I've been following Tino Schmidt for a few years, both for his original songs and his terrific remixes. Although I'm happy with those remixes that are a completely alternate take to the original I'm really knocked out that Tino's mix is the first since the original that totally understands the spirit and enhances it while bringing our track right up to date, standing powerfully up against my favourite contemporary dance tunes. And now I'm going to listen to it again, as loud as the neighbours will stand!"

Purple Disco Machine adds: "I am absolutely honoured to remix 'Don't You Want Me'. It is quite simply one of the best records ever made and I've been desperate to play a version in my DJ sets for years. I deliberately kept my remix faithful to the original as I knew I could not tamper too much with those incredible verses & chorus as they deliver such powerful recognition and joy from the audience. Already everybody sings the words back to me when I play it in my DJ sets! I've hopefully brought enough Purple Disco Machine to proceedings to make it worthy of the 40th anniversary"

With just shy of 1 billion streams across his catalogue and over 9 million monthly Spotify listeners, Purple Disco Machine continues to live up to the hype of #2 Beatport Artist of All Time. Working with a long list of A-listers that includes Dua Lipa, Mark Ronson, Foals, Calvin Harris, Fatboy Slim, Sir Elton John, Royal Blood and Lady Gaga, more recently he released aforementioned album Exotica, a well-received LP where "disco guitars, funky basslines and soulful vocals rein supreme" according to Magnetic Mag.

English synth-pop band The Human League formed in Sheffield in 1977, initially as an experimental electronic outfit before signing to Virgin Records and attaining widespread commercial success. They have since released nine studio albums, two remix albums, one live album, six EPs, thirty singles and several compilation albums.

One of dance music's finest remixers working his magic on one of the defining tracks from the 80s renders typically dazzling results.